Performance Ignition Services is proud to be the Australian dealer for Magnecor Ignition Wires.

Magnecor have been manufacturing ignition cable since 1976 to suit a variety of applications including competition, street, industrial & military. With the capability of being able to supply leads to suit almost every engine ever manufactured, Magnecor ignition cable provides a value for money product whose quality is second to none.
MAGNECOR ADVANTAGES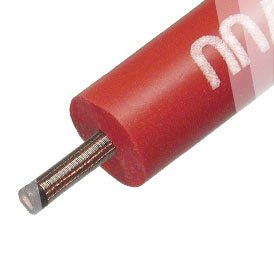 Variety of insulating jacket matierals to suit both normal & extreme applications
Varierty of conductors conduct full output from either original or racing ignition systems while providing excellent suppression
Non-deteriorating conductors help maintain maxmum engine performance, fuel efficiency & emission control during the life of the engine

Easier starting, smoother running & quicker response on acceleration

All cable conductors provide excellent RFI (radio static) and EMI* (electromagnetic interference) suppression
*EMI is electrical energy emitted from ignition leads for onboard comptuerised engines, drivetrain and chassis management systems and data acquisition equipment, can casue erratic running, poor engine performance, reduced fuel efficiency and false data
PRODUCTS
R-100 RACING CABLE
Designed for racing engines using race ignition, supercharging & exotic fuels. Extra large 10mm jacket made from aerospace extreme heat-resistant silicone rubber to provide additional heat protection & insulation. Exclusive Magnecor 2.5mm Metallic Inductance Suppressed Conductor will suppress EMI indefinitely. Can be used on street vehicles if space allows. Red in colour.
KV85 COMPETITION CABLE
Primarily designed for race engines using race ignition, turbocharging & supercharging. Entire jacket made from aerospace extreme heat-resitance silicone rubber. Exclusive Magnecor 2.5mm Metallic Inductance Suppressed Conductor will suppress EMI indefinitely, allowing this cable to be used on road vehicles with any ignition & LPG conversions. Can be fitted into most original lead holders & brackets. Red in colour.
ELECTROSPORTS 80

Original equipment replacement. Designed to improve original ignition system performance on road vehicles using either electronic engine management systems or carburettors. Ideal of LPG engines. Excellent RFI and EMI suppression. Flexible high strength silicone construction will allow cable to fit into original 7mm lead holders. Blue in colour.
ELECTROSPORTS 70
Direct replacement for 7mm original equipment carbon conductor wires. Conductor provides exceptional RFI and EMI suppression to permanently eliminate the typical performance & fuel wasting spark energy deterioration of OE & aftermarker carbon conductor wires. Also overcomes performance problems associated with poorly suppressed aftermarket spiral conductor wires on both modern & older engines. The conventional style insulating jacket consists of EPDM insulation & an extra strong EVA outer jacket for better terminal retention needed for small diameter cables. Black in colour.